Thursday, January 21st, 2010
Aile forwarded this to let me help spreading Durrell's lovely new product over the world.


Durrell (Visiting faculty of CIID, Founder of Luckybite) and Tom have a new product which mixes the iPhone with physical things! (which is also same idea of mine currently!)
It's a physical BirdBox that turns your iPhone into a nesting box cuckoo alarm clock. The app is free and has just gone live on the app store at http://itunes.com/apps/birdbox and you can buy your box at www.luckybits.com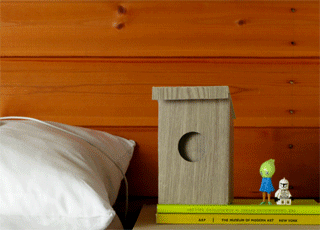 Aile에게서 포워딩 받은 새로운 뉴스.


우리의 외부 교수이자 럭키바이트의 대표, 디자이너이신 Durrell Bishop이 아이폰과 피지컬 오브젝트가 상호작용하는 신제품을 내놓았다는 뉴스이다.
Tangible User Interface과목에서 독특한 크리틱으로 우리를 조마조마하게 했던 분..


무엇보다도 현재 내가 가지고 있는 아이디어, 아이폰+피지컬 오브젝트, 에 딱 들어맞는 제품이라 더 관심이 간다.