Archive for the 'Wave of people' Category
Thursday, January 21st, 2010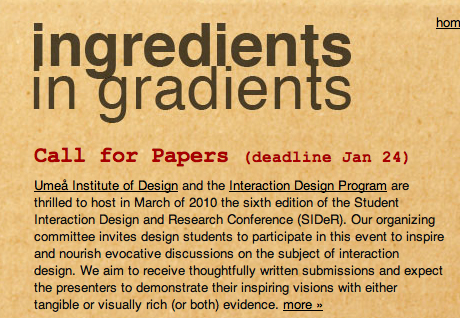 SIDeR 2010 | The International Student Interaction Design Research Conference.
This year, Umeå Institute of Design is thrilled to host the sixth edition of the SIDeR conference in Umeå, Sweden from March 24th-26th 2010. The 3-day event will combine a mixture of keynote lectures, interaction presentations, workshops, interactive sessions and social events.
올해로 여섯번째 행사를 맞이한 SIDeR Conference가 Umeå Institute의 주최로 스웨덴 우메아에서, 오는 3월 24일 부터 26일까지 개최된다. 나는 분명, 다양한 키노트들의 강의와, 프리젠테이션, 워크샵, 소셜 이벤트등으로 무장한 3일간의 이벤트에서 많은 것을 느끼고 경험할수 있으리라 생각한다.
개인적 경험상.. 스칸디나비아에서 일어나는 것들 중 그 어떤것도 허술하게 때우기 식 컨퍼런스는 없었기 때문에…
They are currently inviting students to make research submissions for publication and presentation at SIDeR 2010 (now open until Jan. 24th). Students who would like to have their work considered, should submit a video showcasing their interactive prototypes and systems, as well as a written article that supports their design research within the realm of designing for interaction. Theme and submission details are available on the conference website at http://www.ingredientsingradients.com
1월 24일까지 국제 학생들의 다양한 리서치와 프리젠테이션 발표 자료를 공모받고 있다고 하니 관심있는 학생들은 도전하길 적극 추천함.
Thursday, January 21st, 2010
I am happy to let you know that Karen Ward, who is a visiting faculty of CIID, founder of Curiosity Inc, just launched a blog recently. It's called The Year of Living Curiously. She said it's literally a curiosity daily where she asks, explores and muses on a different question each day.
Curiosity의 대표이자, 아이디어 및 컨셉 디자이너이자,  CIID의 외부강사인 Karen Ward가 호기심 가득한 블로그를 오픈했다는 이메일을 받았다. 블로그의 타이틀은 The Year of Living Curiously. 그녀가 던지는 일상의 질문들로 채워지는 일기장 같은 블로그.