ZOTAC DisplayPort to dual HDMI for multi-projector media installations

I've had this sitting in my suitcase for a while, finally here's the results of trying it out: (i hope to reword some of this later when I haven't just got off of a 12 hour flight)
This adapter belongs in the same cupboard as a Matrox DualHead2Go (part of their GXM product line) but is made by Zotac who are new to this type of device. This device being: Take 1 video output socket on your computer, plug in one of these, and get 2 outputs (in our case for 2 projectors).
When you have everything connected, the 2 outputs appear to the computer as 1 large output (e.g. if you have 2 XGA projectors attached to the Zotac, then the computer will see a 2048*768 video head attached its output). This way, you can send separate signals to the 2 projectors (the left side goes to projector 1, the right side to projector 2).
At the moment I prefer to use HDMI because:
Sharp, consistent signal / 'Lossless' (We can use the terms HDMI and DVI interchangeably when discussing signal, they're generally the same thing but with different ends on the cable. However, HDMI can support higher frequencies whilst DVI can support dual-channel)
Competitive market of HDMI products (repeaters, cables, adapters. Long DVI cables are expensive whilst generally offering the same performance)
Decent physical connector (I find D-Sub which is used for VGA/DVI clunky and easily damaged)
Test setup
Here's an image of the test setup: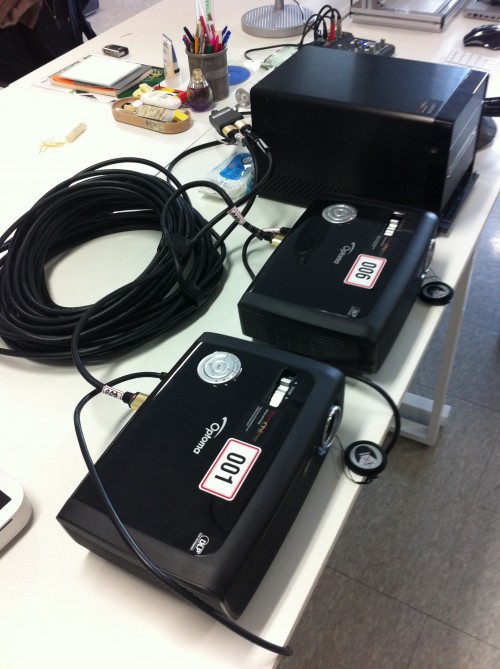 ZOTAC mini DisplayPort to dual HDMI (ZT-MDP2HD)
Shuttle X58 XPC
XFX ATI 6770 Eyefinity 5 Mini-DP single slot video card (5 outs on one card for under £100!)
2 x Optoma EX539 projectors (native XGA, support 120Hz)
2 x 15meter HDMI straight cable
Initialisation
When you plug everything together, nothing happens. It's only when you switch the projectors on that the computer starts to recognise that there is a display attached. In fact, if you turn on 1 projector then you get an XGA output at the computer, only when both projectors are turned on does the 2*XGA output appear in the PC settings.
This is in contrast to the Matrox which offers you the relevant resolutions directly on connection of the Matrox to the computer (the connection state of the projectors isn't generally reported to the computer's graphics card). This is advantageous for reliability as the state of the system from the PC's point of view remains constant.
The behaviour of the Zotac would generally require you to turn on the projectors before turning on the PC when running an installation which starts on boot.
Supported modes
The specification quotes 2*HD is supported (3840*1080), however it was not offered to me even though the projectors support it (I've tested and used 1920*1080 on these projectors before on 15meter signal length). Only the native resolution was offered to the PC for the dual modes (XGA). For single head modes more resolutions were offered.
The Zotac should be able to support 120Hz XGA (XGA@120Hz ~= HD@60Hz in terms of bandwidth), but this was not supported / offered.
Selecting XGA@120Hz resulted in the signal being passed through to 1 projector only, this gives the same behaviour as an ordinary Mini-DP to DVI adapter when used with this projector.
In fact, the adapter works perfectly well as a single HDMI signal adapter. This somewhat explains the strange initialisation (it seems to switch personalities between a single and dual head adapter). Since it's only a few more £'s than getting an active Mini-DP>DVI>HDMI adapter chain, this becomes very attractive.
Conclusion
I like it!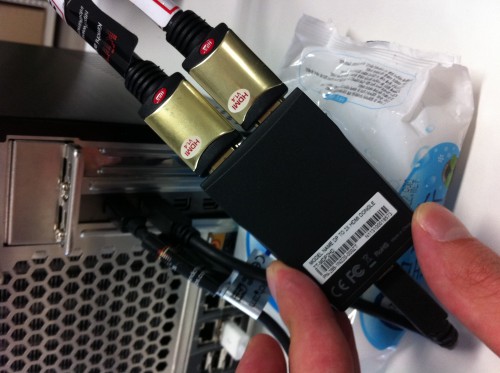 Advantages over Matrox:
Cost

The Zotac is £40 vs the Matrox at £100 / £150 / £250 (VGA in VGA out / VGA in – DVI or VGA out / DVI in – DVI out)
You save on the cost of adapters (Apple computers and ATI EyeFinity graphics cards commonly have DisplayPort sockets, projectors commonly don't, you need adapters. For EyeFinity, DVI/HDMI adapters generally must be of the more expensive 'active' type).

Elegant

One small tidy device splits the signal into 2 HDMI feeds
Doesn't require USB bus power

Signal strength

I generally found that the Matrox's (tested on TH2G-Digital) can't push DVI signal over a 15meter cable, active Mini-DP to DVI adapters generally can, this Zotac dual adapter can (in my non-noisy environment).
Disadvantages:
HDMI only

Matrox offers VGA, DVI and DisplayPort outputs (depending on model)

Strange initialisation

Could be a problem with long term installations that need to be started up every day by different people

Less mature

The Matrox devices have lots of hours clocked up, a large user base + lots of software updates

Only the native dual mode listed

It is somewhat of an advantage that it looks up the native mode and offers that, but in some situations it's vital to send non-native signals

No software interface
Unknowns:
Supported by EyeFinity span modes? (should be equal to Matrox)
Can connect more than 2 of these to 1 EyeFinity card without active/passive adapter issues (should be fine)
Long term performance / reliability
Latency / motion artefacts
Support for all resolutions (1400*1050, 1680*1050, 1280*800, 2048*1080)